Tuesday, February 9th, 2010 at 12:15 am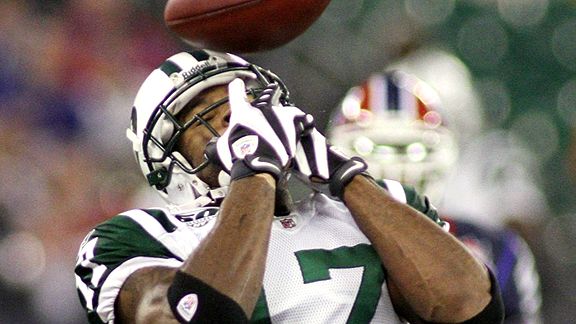 Damn damn damn. Rich Rodriguez is already off to a poor start in Ann Arbor. Recruits are already dropping expectations and goals faster than Warren Sapp dropp…What? Too soon.
Incoming freshman receiver Ricardo Miller wants to emulate his idol Braylon Edwards on the field.
"I feel most certain I can be the next Braylon Edwards," Miller said, referring to Michigan's all-time leading receiver (3,541 yards), who is now with the New York Jets. "I'm not saying this because I'm arrogant or cocky. I just feel that the work I put in on the field and off the field, and the type of player I already am with my height and my hands …

"Braylon Edwards was an idol to me. He's known for going up and getting balls and being very versatile with his route running. So with that in mind I just feel I can be the next No. 1 receiver that everybody will talk about."
Yeesh. The picture above should tell one everything they need to know about Edwards' hands.  There's no doubt he goes up for balls. Getting them is another story. Miller probably shouldn't equate his hands to Edwards' unless he's planning on dropping more passes.
Then again Miller could be talking about having the same hand speed and velocity when he punches people out of jealousy because they're friends with people more famous than him. Hopefully he'll take responsibility for his successes and failures unlike his idol.
Whatever Miller means, it's probably safe to assume that he has no intention of catching staph infections like Edwards and everyone else on the Browns including mascots TD, CB, Chomps and Trapper.