Thursday, June 23rd, 2011 at 11:59 pm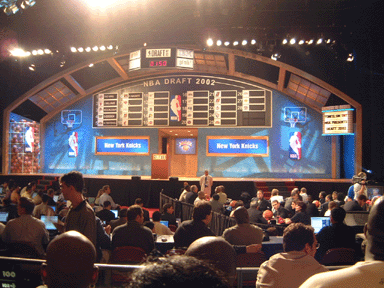 Much like when I speak with my parents, spend time with my kids, or treat women like equals, it's unusual for me to take in the NBA draft. Not when there are UFC fights to watch; or when the NFL Network is yakking away about the subjective 100 best players of 2011 were; and then criticizing their own list. But tonight, when my beloved Cleveland Cavaliers were going no. 1 overall, I figured I would clothespin my nose for Wilbon and company just to see who we picked up.
Kyrie Irving, welcome to Cleveland. Don't welch on a dice game like other former Cleveland athletes.
Make me forget Lebron James, ESPN:
Three of the first six players taken were from Europe, capitalizing on the absence of some American college players who might have gone in their spots and made this a stronger draft. It was the first time four international players who didn't play at a U.S. college were selected in the lottery.

Even Irving has international ties. He was born in Australia while his father, Drederick, played professionally there and said he might be interested in playing for the Australian national team.
I can't even pronounce most of these names! This is America, people. Why isn't Rick Perry running against Obamacare? (Downs whiskey, fires .45 into television set, passes out).