Tuesday, April 27th, 2010 at 1:14 am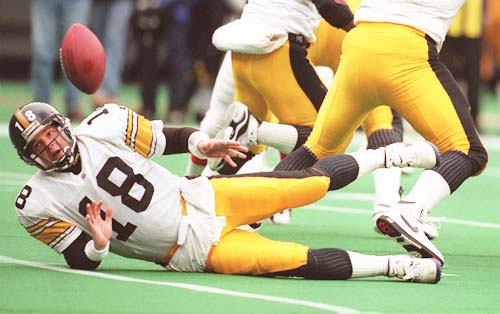 Poor Mike Tomczak. Always adequate yet mediocre as a quarterback. It turns out he's the same when it comes to domestic violence.
Tomczak was arrested and charged with two counts of simple assault after attacking his wife in their home.
Mr. Tomczak was arrested Monday afternoon at his home after his wife called police. Police said Mr. Tomczak reportedly lunged at his wife and stepped on her foot, but did not hit her, according to KDKA-TV.
At least Tomczak stayed true to form and missed the open receiver. He shouldn't feel too bad. Kyle Boller would have lunged forward and fallen backwards without making any contact. However Ben Roethlisberger says he's doing it wrong.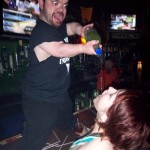 If you'll excuse me, I'm off to Casey's to see their bar midget who's quite interested in whoever "wants to fucking drink" and check the white power graffiti in the bathroom. Stay classy, Pittsburgh.
** If you're wondering, this picture was taken at Casey's last year after we drank Chimp's wedding reception dry and started a bar crawl. It was the first stop but should have been the last. Oh Primanti.