Wednesday, January 5th, 2011 at 9:07 am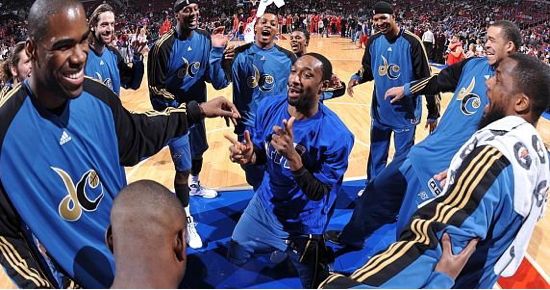 The dirt has barely settled on the grave of the infamous #0 jersey yet Boo-ray has raised its ugly head in an attempt to bring down another team. Well we are talking 'bout the Grizzle. They can't get much lower. They get free passage from Charon when crossing the Mississippi and Cerberus guards the locker room door at the FedEx Forum.
A fight broke out between the Grizzlies' OJ Mayo and Tony Allen during a team charter flight on Monday night. The dispute was over money owed from a game of Boo-ray. Yes, that would be the same game that caused the "drama" between Gilbert Arenas and Javaris Crittenton. That minor altercation destroyed the Wizards and earned Hibachi a season-long cooldown.
Mayo owed Allen money from a card game, "Boo-Ray" and sources said Mayo became increasingly belligerent and antagonistic toward Allen when asked to settle the debt. Sources said Allen walked away from Mayo to go the restroom and returned to find Mayo continuing to berate him. Eventually, Mayo inched close to Allen, and sources said Allen hit Mayo.

"Tony warned [Mayo] to watch his mouth, and [Mayo] wouldn't do it and just kept going off on him," a source with knowledge of the incident told Yahoo! Sports.
Teammates separated the two and the team considers the matter closed. Gilbert won't be impressed unless Allen brings guns into the locker room so they can settle it like fools.
Note: I meant buck buck like a gun, not the Bill Cosby/Fat Albert game. Apologies if you were expecting the latter. If you were, I hope this makes up for it.