Wednesday, March 30th, 2011 at 10:20 am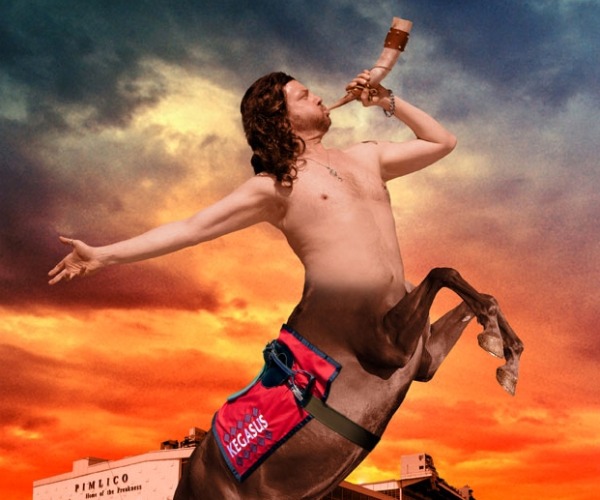 Last year Preakness officials wanted you to "Get Your Preak On". This year they pulled out the big guns and asked the god of Port-A-Pot racing and power hurling to bless Pimlico with his presence.
The Maryland Jockey Club unveiled Kegasus as the mascot for this year's Preakness. The drunk centaur is supposed to appeal to the 21 to 40 age group in hopes that they'll invade the infield and treat it like a prostitute.
…Maryland Jockey Club President Tom Chuckas said an over-the-top figure like Kegasus is just the thing to get young people fired up for the May 21 race.

"It talks their language," Chuckas says of the infield demographic. "We have never hidden the fact that we want people to come to the infield and party."
Dr. Jonathan Chase was unavailable for comment as he was busy stopping drug dealers in Liberty Heights in the form of a koala.
Everyone isn't thrilled with Kegasus. Unbelievers think he leaves pain and drunken debauchery in his wake. All he wants to do is make people chug Natty Boh from his booze horn.
On the event's website (theinfieldfest.com), the homepage depicts Kegasus in his element, a dank, wood-paneled "man stall" with beer mugs lined up on the window sill, not far from a pitcher and the full-blown keg he was apparently named for. Bikini tops dangle from the walls. Cheese curls fill a basket.

"Be legendary," he implores.

"Half-horse half-man with beer in hand, he strolls the infieldfest," goes the first Kegasus radio ditty, featured on YouTube with a picture of the centaur gripping a beer mug in each fist. "He's bold, he rocks, he's hot to trot, for girls with beautiful yes!"
At no point does Kegasus mention sunstroke or alcohol poisoning. Blasphemy will not be tolerated on the west side, hon. The 2011 Running of the Urinals will be most epic if he has anything to do with it. Be legendary indeed.