Thursday, May 5th, 2011 at 8:31 am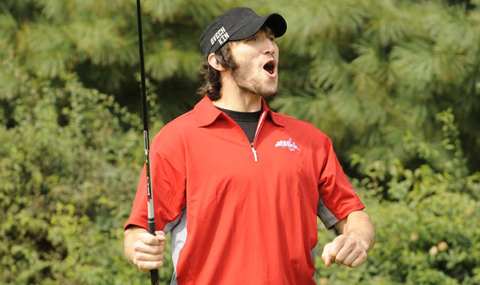 It looks like Alexander Ovechkin will get onto the golf course early, yet again, this off-season as the Washington Capitals were swept in the 2nd round of the NHL Playoffs by the Tampa Bay Lightning. This marks the 2nd straight season where the Capitals were a #1 seed that could not make it past the first or second rounds of the playoffs. Despite what Ovie thinks, the Caps by no means dominated the Lightning in this series.
At times the Capitals played some very inspired hockey, most notably in my mind was the the 2nd period of Game 3 where they dominated the puck for the entire 20 minutes, but in general the Caps looked sloppy against the sharp play of the Lightning. Sure, maybe the Caps just ran into another blazing hot buzzsaw of a team (this is the Lightning's 7th win in a row during the playoffs) just like when they got bounced by the Canadienes last year but I don't know if anyone actually believes that this is the case.   The system and team that Tampa's coach Guy Boucher and GM Steve Yzerman put together played right into the Captials' main weakness, utter lack of discipline.
The Lightning could basically sit back and wait for the Capitals to make a mistake because everyone in the building knew that they would screw up somewhere and whenever it happened, the Lightning would strike (pardon the pun) and generally it turned out in their favor. The Caps can talk all they want about the lucky bounces that the Lightning got throughout the series but, to me, that is loser talk. Most successful people say that you make your own luck. Preparation, practice and most importantly execution make your luck. The Captials, despite having several days to prepare for this series, in hindsight were never prepared for this series.
The coaching staff didn't adjust, despite ample time to come up with a game plan for the Lightning, the players couldn't adapt to the circumstances and they regressed to the sloppy/over-aggressive play of the last few years (or just stopped playing whatsoever [see Backstrom, Nicholas or Semin, Alex]) and the team's management and fans could only sit and watch as yet another season as a top seed gets wasted away.
As a lifelong Washington Capitals fan, being disappointed by this team is by no means a surprise. They always disappoint. Its what the Capitals do. Its happened one way or another every year that I have followed this team. Its par for the course. I feel at this point that if they ever do win the Stanley Cup I might just be disappointed that they finally did not disappoint me. I can't start thinking that way though, I'll just get let down again somehow.