Friday, March 1st, 2013 at 10:10 am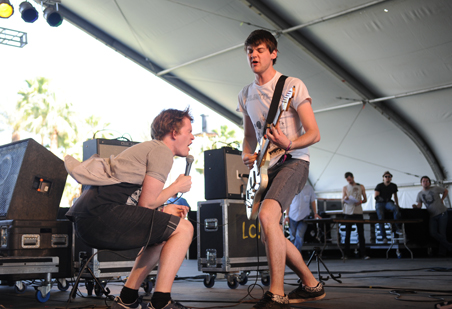 I meant to get to this story a month ago but I was distracted by the Black Keys' Patrick Carney trolling all the Bieberites or whatever they call themselves.
Gareth Paisley of Los Campesinos! decided to have some fun with people who rely on Twitter for Premier League transfer news. He assumed the persona of the Daily Mail's Martin Samuel on January 31st and went to work dropping last minute transfer garbage on Twitter.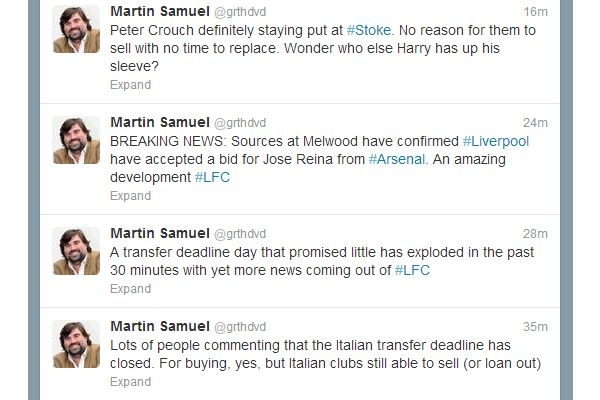 Pepe Reina to Arsenal? Anyone with sense would have picked up on the discrepancy between the name and Twitter handle. Relying on Martin Samuel and the Daily Mail for facts is the equivalent of doing the Harlem Shake in front of an industrial fan with your dick hanging out. Needless to say, people were not happy when they found out they had been tooken back like Ghostface.
STATS: over 2,500 RTs. Trending #1 (Reina to Arsenal) and #9 (Martin Samuel) in the UK, #4 Worldwide. Gained over 2,000 (temp) followers

— Gareth David (@grthdvd) January 31, 2013
Let's think about this. Arsenal has the steadiest keeper they've had since David Seaman. Arsene Wenger may be many things but he surely wouldn't be foolish enough to bench Wojciech "Kenny" Szczesny for Pepe Reina who seems to be evolving into the next coming of David "Calamity" James by the season.
We need more Twitter trolling by musicians. Wait until Babyface and Ralph Tresvant start trolling fools. It's gonna be so sensitive.
H/T to Noisey Music