Friday, April 16th, 2010 at 12:02 pm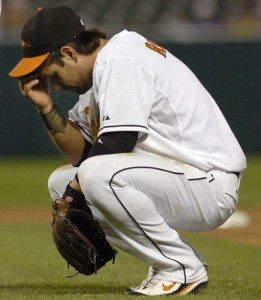 As we glide into warmer weather and brighter days, we're still stuck with a deluge of crappy stories.  I'm wondering when we'll get a break from the sexual assaults, projectile vomiting, and the Baltimore Orioles.  Prepare for your weekend away from the mess with some headlines:
Granted, it's really early, and I'm pretty sure Game 7 for both of their series isn't scheduled until the beginning of June, but I can't think of a worse follow-up to the NHL's success at the Vancouver games than to lose its two marquee players in the first round of the playoffs.  That would be devastating.  I consider myself fairly knowledgeable about sports, but if you asked me to name 100 current NHLers right now, I probably couldn't do it.  The NHL needs a Caps-Pens matchup more than a USA medal finish in just about every way.
New Jersey?  Phillies fan?  Drunk?  Too, too easy.  Very quickly, let me just check something:
Yep, big fat pig.  Have fun in jail, jerk.  And where was Green Man when you need him?  Speaking of which: dressing up as Green Man is TIRED.  Green Man first came on the scene in September 2007.  Since that time, I can say without a doubt, I've seen at least one attention-seeking pencil neck dressed as Green Man at each outdoor concert and sporting event I've attended.  Whatever happened to going to a game, having a few beers, betting on the condiment race and scoping out other dudes' girlfriends?
Rough month for Papi: benched by Tito Francona, he's struck out in half of his at bats, and now he's being sued.  I wonder if part of the settlement will include an agreement indicating who's overpriced sinkhole gets to go out of business first.  Celebrity-themed restaurants and bars are almost always terrible tourist traps.  I will write more about this phenomenon one day.  Dan Majerle, you're on notice.
First of all: if you go to a bar and see a celebrity and you're stalking doesn't convince them to a) leave, or b) call the cops, please don't record them.  It's weird, it's creepy and you're ruining it for the rest of us.  I've hung out in places where celebrities have let loose and let me tell you: it's awesome.  But as soon as you pull out a camera, you ruin it for everyone else.  Now Jerry Jones will never go to a public place and drink ever again.  See what you did, nerds?  Jerry, I'll get drunk with you and you can call me a "piece of s—" anytime you want. 
We've discussed "Young Dummies with Money Syndrome" before, so I won't get into it again, but I will say if there is a dumber guy in football than Ben Roethlisberger, I'd sure as hell like to meet him.  When you've got Terry Bradshaw giving you life advice, you must be really, really slow.  And how will the Steelers be punishing him?  By trading away their best receiver for nothing?  Never mind, they already did that.
Whenever I think of kidney stones, I think of Kramer. 
JERRY: Hey!

KRAMER: Hey.

JERRY: What's with you?

KRAMER: I got a stone.

JERRY: What stone?

KRAMER: A kidney stone.

JERRY: What is that, anyway?

KRAMER: It's a, it's a stony mineral concretion, formed abnormally in the kidney. And this jagged shard of calcium pushes its way through the ureter into the bladder. It's forced out through the urine!

JERRY: Oh, that's gotta hurt.
Indeed.  Have a great weekend.  Let's hope for a weekend where everybody stays out of jail and keeps their pants on.