Friday, June 25th, 2010 at 12:37 pm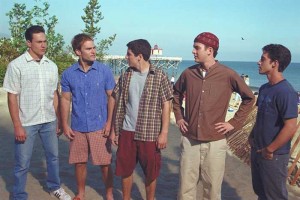 I looked up this morning and realized we're almost done with June.  It feels just like yesterday I was making fun of Joe West and lamenting having to work on a holiday weekend.  Now, we're a few days away from July 4th, the summer's mid-point.  I've been told this is what happens when you get older and have a real job.
I guess I'm ok with no longer having summers off, but part of me would like one more college summer.  College summers are basically the same as regular college, but instead of class, you get a "Joe Job" where you work just enough hours to financially support yourself.  Then, you get to hang out with your buddies the rest of the time going to baseball games, playing entire seasons of Madden in two days, taking road trips to places like Jamaica Plains, Massachusetts, and going out during the week.  The other cool thing about college summers is that because so few people actually stay at school, those who chose to stay behind form this weird social bond where everyone bands together and hangs out.  By summer's end, you've meet all these cool people you had no idea existed.  Of course, the social order is restored when school resumes, and the gorgeous girl that lived across the street forgets you existed, but whatever.  College summers were great.   
Nevertheless, the summer of 2010 is running full throttle from soccer games to Armando Benitez comebacks.   I guess you can't really fight it: just let go and enjoy the ride.  Regardless, take some time to read between the headlines:
Meanwhile, the Pittsburgh Pirates have announced that the Limp Bizkit Reunion Tour will be making a stop at PNC Park.
Hey Paul Allen, Pat Riley called, he wants his move back.  What I don't understand is that Pritchett asked to stay and work the draft after he was let go.  That's so sad.  "Hey, look, I know you think I suck, but can I just stay here for a few more minutes and work for you?  Please?"  And if I'm the Blazers, can I trust him not to draft the next Ruben Patterson?  I hope this means the Jail Blazers are coming back because their wanton disregard for coach and community was truly something to behold.  What's Latrell Sprewell up to these days?
The story says Brunell made an estimated $52M in his career.  That's a lot of dough to blow through.  How do we think he did it?  Messy divorce?  Drug or alcohol addiction?  Fancy cars?
The[bankruptcy was the] apparent result of a string of failed real-estate investments.
This is the worst pro-athlete bankruptcy filing ever!  Gimme a gaggle of mistresses, a five gram-a-day coke habit… something!  At least Mike Tyson enjoyed wasting his money.
I don't think John Wall is anything like Kwame Brown, so the Wizards are probably pretty safe there.  However, they couldn't help themselves and had to do their best to draft undersized power forwards and make a stupid and expensive trade.  So make of it what you will.  Some franchises are unlucky, and others are just stupid.  Despite new ownership, the Wizards still fall under the latter.
I have a lot to say here, but instead of ranting about it, I'm going to use a haiku.  They're more graceful, poignant, and most importantly, easier to read:
Marlins owner sucks
More of a douche than Big Stein
Sucks to be O's fan
Fin.
I hope all the ladies out there reading the Deuce take this gal's lead: if you want us to stalk you, please put your phone number up so we can call you.  Makes the stalking a lot easier…  And this has been your "Being a Pro Athlete Totally Rules" update. 
Speaking of the Jail Blazers, Rasheed was one of the original ones.  Let's see him out with a quote from one of my favorite 'Sheed stories:
In one of their final touching moments together as Jail Blazers, [Rasheed] Wallace and [Bonzi] Wells were at practice when Wallace suddenly reared back and chucked a basketball at teammate Ruben Boumtje Boumtje, who was shooting jump shots with his back to them. According to The Oregonian the ball struck Boumtje Boumtje so hard he fell to the floor and lay writhing before eventually walking off. By then Wallace and Wells had run away, giggling like schoolgirls.
That's such a dick move, but damn, it's funny.  Good night, sweet prince!
Ok, that's it for me.  Everybody have a great weekend, if you need me, Lindsay and I will be planning our birthday parties.