Tuesday, August 2nd, 2011 at 8:00 am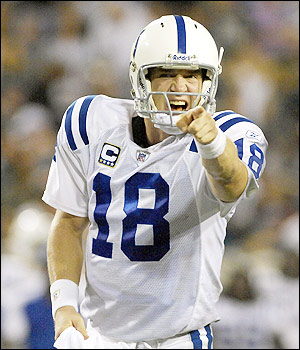 Spare us the endless line of ass-kissing that constitutes ESPN and the NFL Network's praise for Peyton Manning "selfless" decision to push for a new contract to tie him with the younger, healthier Tom Brady as the highest paid player in the nation.  There's nothing selfless about it; Manning is a aging QB on the downturn of an incredible run.  He's made 208 consecutive starts, but he's also had 2 neck surgeries within 15 months; the Colts won't even say when they think Manning will participate in preseason.  He got a "lifetime achievement" deal because whether he performs well or not, Manning will pack the stands at Lucas Oil stadium and sell jerseys until the day he hangs it up for good.
Florio is an idiot but he is right about this; $90 million over 5 years is not an act of charity; but it does fit into an acceptable NFL storyline for sports reporters to discuss in little 45-second segments for college kids on weekday afternoons. ISN'T PEYTON TERRIFIC!? WHY HIS BOWEL MOVEMENTS SMELL LIKE SCENTED CANDLES AND SPRING FLOWERS!
Manning is a businessman, part of the reason we have to suffer through a huge DirecTV logo every single time Manning appears on ESPN or NFLN. From the moment Brady got his new deal, Colts owner Jim Irsay crowed about how he intended to make Peyton Manning the highest-paid player in the nation, basically talking himself into giving Manning a record deal; very similar to how Jets Coach Rex Ryan basically talked Darrelle Revis into holding out before the 2010 season.  So, of course, Manning pushed hard for the new deal; he didn't like being franchised at $23 million; not when he was getting ready to go under the knife.  Again.
Manning is arguably the hardest working player in the NFL; and he's also basically his own offensive coordinator. The numbers suggest that Manning is going to continue to perform; albeit at a diminishing level, and the Colts have done a pretty good job of putting weapons around Manning to keep the Colts competitive. Still, the Colts need to get younger at RB and (probably) TE. Now we are hearing that Manning's O-line is short a Charles Johnson; thank goodness the Colts have all that extra fantasy money to use on getting somebody.