Tuesday, March 15th, 2011 at 11:15 am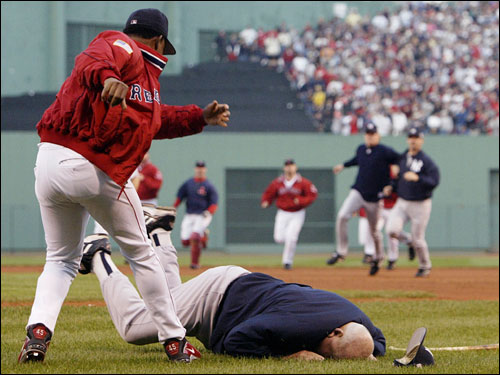 This isn't much of a story however it's the kind of thing you expect to happen in a soup kitchen and not the Yankees clubhouse. It's also an excuse to use a picture of Pedro throwing Don Zimmer.
New York Yankees Hall of Famer Yogi Berra was taken to a Clearwater, Fla., hospital today after falling in the team's clubhouse at Bright House Field.

Berra, 85, stumbled and fell backward after catching his shoe in the carpet as he went for a cup of soup. As a precaution, he was taken to Morton Plant Hospital in Clearwater, the Yankees said. He reportedly was alert and had spoke to his wife.
The cup of soup was probably the last thing left on the table. The Yankees starting rotation must have gotten there first. Berra wasn't the only Yankee affected by the incident. A-Rod reportedly threw a temper tantrum because Cameron Diaz wasn't there to feed him and he missed out on the buffet as well.