Friday, April 23rd, 2010 at 12:05 pm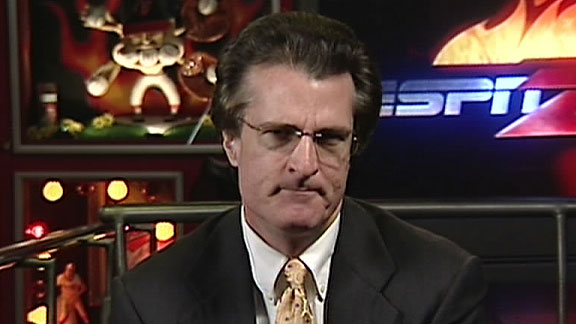 When you think about it, televised amateur drafts are really just free-for-alls for pea-brained analysts utilizing their worst skill: extemporaneous speaking.  I've had a fair amount of extemporaneous speaking experience in my life and I realize its hard, but people that have been doing it for as long as Stuart Scott and Chris Berman just shouldn't be this bad at it (it also probably helped that my coach was and is the Red Auerbach in our metro area, but I digress).  
In any case, the NFL draft also reignites the internal struggle "Childhood Duke" has with "Adult Duke:" will I ever buy another jersey again?  Growing up, wearing jerseys was pretty awesome: they were as close to the field as kids could get.  Aside from wearing your hero's colors, they also made a sweet fashion statement in 5th grade.  And while I eventually grew out of them, there's a part of me that would still like to wear one, even if it's just to a sporting event.  Yet, somehow, I just can't bring myself to do it.  As Shawn Carter stated, "And I don't wear jerseys, I'm thirty-plus…"  Never thought I'd be taking inspiration from Jay-Z, but oh well.  On to some headlines…
Sam Bradford won the Heisman Trophy in 2008.  He threw 67 passes in 2009.  There are many reports that suggest he will be guaranteed $50M before he throws one in 2010.  And people think the economics in baseball are messed up.  Right…
The Denver Broncos traded picks for three hours in order to draft WR Demaryius Thomas and QB Tim Tebow.
Basically, the Denver Broncos played grabass with 31 other teams in order to pass on the consensus top receiver and #2 and #3-rated QBs.  Josh McDaniels, I know Bill Belichick, and you sir, are no Bill Belichick.  Bill doesn't use draft picks.  I also can't wait for more sanctimonious pieces of crap like this, where we can be admonished for doubting the sainted Tim.  By the way, Jon Gruden, what did you think?
 "He just told me to get off his mound," Rodriguez said. "That was a little surprising. I've never quite heard that. Especially from a guy that has a handful of wins in his career."
And I think that just about ends that argument.  "Phoenix," you just got owned by this guy.