Wednesday, October 13th, 2010 at 2:46 pm
Tuesday, February 16th, 2010 at 12:07 am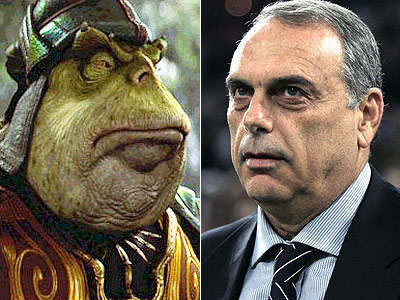 You hate freedom if you didn't take this weekend and salute William Taft. Shame on you. Speaking of people with no shame, we have news of more sexual stupidity from Chelsea players, someone getting beat down by some 6'2″ karma and a mascot taking a voodoo style beating.
Cashley Takes The Wrong Lesson From Greg Oden

Ashley Cole may be the best left defender in England. Unfortunately his playing skills bear no relation to his intellect. He's in trouble again after texting pictures of himself in various stages of clothing to another woman who isn't his wife. He was recently busted for the same thing but explained it away as a joke saying a friend sent the pictures. It'll be hard to use the same excuse now that another woman has stepped forward with naked pictures and multiple texts from him on her phone.
The unidentified woman received pictures similar to the ones received by the first woman in addition to over 300 text messages begging her not to share the texts with anyone else. Stay classy, Cashley. Let's see if he has as much luck getting Cheryl back as John Terry did getting his Toni back. It'll be hard for him to say that she's not justified in Bridging her gap at this point.

Karma Is A 6 foot 4 inch bitch for Craig Bellamy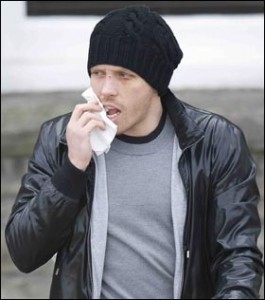 Manchester City striker claims to be a misunderstood individual. He may have invested over £450,000 of his own money into a soccer academy in Sierra Leone and pledged a further £850,000 but he still seems to find trouble. He's fought with managers, fellow players and fans. Trouble finally found him outside a Cheshire nightclub.
Bellamy had his ass handed to him by a 6'4″ Manchester United supporter following a night on the town.
A Man United fan battered the Man City striker splitting his head open and sending him flying. The 6ft 2in attacker – built like a rugby player – continued pounding 5ft 9in Bellamy as he lay sprawled on the ground.

… An onlooker said: "The guy hit Bellamy five or six times. He [pummeled] him in the face."
Bellamy declined to press charges but it's unclear what started the beatdown. He was out with teammate Wayne Bridge but it isn't alleged that he was involved in the fight.
Maybe Bellamy was jumped by a supporter of a rival club or maybe he started talking shit and paid the price. Does it matter? If he wants to be seen as a changed man and start being recognized for his good deeds, he needs to start avoiding situations like these on and off the pitch. That means not hitting subdued fans, taking gold clubs to teammate's heads or threatening to fake injuries or leave a club when he doesn't get his way.
John Terry Avoiding The Wrong Sexual Organs

John Terry may be in Dubai salvaging his marriage again but he still doesn't have his priorities straight. He can't say no to the vagina but he has no problem saying no to cancer awareness.
The mascot pictured above is a "campaigner for male cancer awareness". Apparently all male cancers can be symbolized by a walking pair of balls named Mr. Testicles. Yes, that's his name. Everton attempted to have Terry pose with Mr. Testicles as a show of solidarity before their match with Chelsea. He declined. One might be able to let him slide considering recent events in his life.
Ain't that a kick in the dick? It's easy to feel sorry for Mr. Testicles as it must be difficult to get people to pose with him even though he represents a good cause. A declined photo op still has to be better than getting nailed in the "face" with a soccer ball.

Derby County v Birmingham City
Uploaded by livroblank. – More professional, college and classic sports videos.
Does Mr. Testicles feel phantom pain like the Crimson Twins every time someone catches it in the balls? These are the questions that consume the Deuce.