Wednesday, July 27th, 2011 at 7:55 am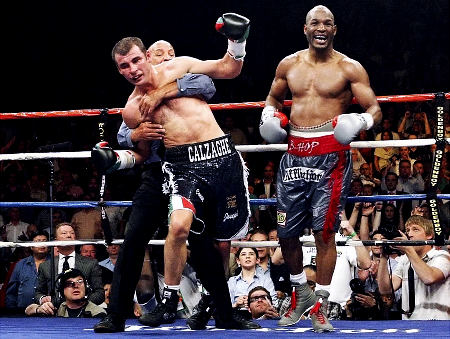 Bernard Hopkins knows all about losing a fight after talking shit. That's why he's the perfect person to comment on David Haye's pathetic performance vs. Vladimir Klitschko earlier this month.
Hopkins executed Haye fast enough to make the Taliban jealous.
When asked his opinion of Haye's performance against Klitschko in Hamburg, the oldest world champion in ring history said: 'If you want a typical Bernard Hopkins response – he bitched.'

That brutal ghetto dismissal of Haye's manhood came with this challenge from the 46-year-old former middleweight and current light-heavyweight champion who has been toying with a rise to boxing's marquee division: 'I would fight David Haye tomorrow.

'I was shocked by him against Klitschko, You can't trash talk the way he did for two or three years and then not deliver. I don't like to question any fighter's heart. But to see him go in there and then keep flopping (onto the floor) I would spot him 20 lbs (in weight advantage).

'The heavyweight division has been in a coma for almost ten years and Haye was given the stage, the opportunity, to fight his heart out. If you do that, even if you don't win, you can come back. But as soon as he started flopping down on his knees I knew it was over.'

When reminded that Haye had followed the loss of his WBA world title by citing that now-infamous foot injury, Hopkins laughed and said: 'Oh yeah, his pinky. Tell you what, I'll spot him 50 lbs. You don't even walk on your little toe.'
Hopkins was promoting the Amir Khan-Zab Judah fight last week along with Joe Calzaghe who beat him in a split decision in 2008. He's hoping for a rematch but the Welshman wasn't biting. Haye weakly claimed he should have a rematch against Klitschko but he's better off retiring or fighting on smaller circuits for sandwiches like Boxcar Willie and the Honky Tonk Man. No one is interested in seeing him flop and moan for 12 rounds again.
Here's a little Channel Live to start your morning.
Note: Statements by KRS-One regarding Lionel Richie are his and his alone. They do not represent the views and opinions of the Deuce. Lionel's style is far from bitchy (except when his ex Brenda beat his ass on the front lawn).