Tuesday, August 30th, 2011 at 8:05 am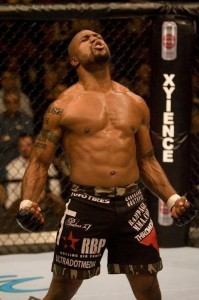 Frightening and hilarious UFC former light heavyweight champion Quinton 'Rampage' Jackson has delighted MMA fans with bizarre interviews, police chases, and knockouts. His triangle-choke-to-powerbomb is the most insane countermove I have ever seen in any fight. Win, lose, or draw, Rampage is great entertainment.
Rampage is preparing for his upcoming light-heavyweight title match with Jon "Bones" Jones and suspects that there's a rat in his crew.
Spill the dets Yahoo! sports:
(Jackson) said that made him wary that someone in his camp had been disloyal. But it wasn't until recently, when he received a message from a fan on Twitter telling him that Jones had a spy in Jackson's camp, that he began to consider it a possibility. It prompted him to make up the story about the injured hand to see where it would go.

Jackson said that four hours after he first made mention of the supposed injury, Silva, who was attending UFC 134 in Brazil, called his manager, Anthony McGann, to inquire. When McGann assured Silva that Jackson was not injured, he asked where Silva had heard the information.

To Jackson, the response was predictable: Silva said he had gotten a call from Jones' manager Malki Kawa.

"One of my friends was talking to Jon Jones' manager recently, and Jon Jones' manager was saying that he knows everything that is going on in our camp," Jackson said. "He said he had spies in our camp and he knew everything that was going on. That got me thinking.

"How did he know about my hand injury that fast? It wasn't on the Internet, and yet he knew about my hand injury right away. The UFC people were in Brazil, which is why it probably took them four hours to call me. That shows me two things: They have spies in my camp, one, and two, they're dumb as hell, because they didn't know how to use the information correctly and to wait. He called right away, running to Joe Silva. Joe Silva called my manager right away."
First, if Jones is indeed spying on Jackson's camp then it should be addressed by a disqualification and a purse fine from Jones' camp, as well as a ban for life from UFC for the culprit. Second, it's not like it's a big secret what Rampage's strategy is anyway. He's not going to put on a clinic, he's going to stick and move, maybe do a slam or two; and basically use his power to try to get the KO. Rampage may just be paranoid.
(adjusts earpiece, kicks binoculars underneath chair)