Friday, July 30th, 2010 at 9:22 am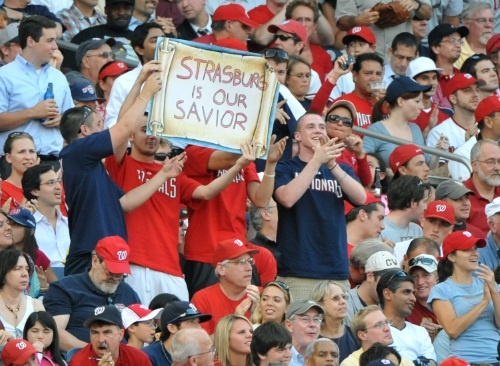 I went to the Nationals game on Tuesday night in an effort to catch one of Steve's outings.  You all know how that worked out: Steve's shoulder got tight, Miguel Batista subbed in right before the first pitch, and the fans booed mercilessly.  Nonetheless, the game went on as planned and Batista pitched five shutout innings, propelling the Nats to a 3-0 win over the first-place Braves.  Despite the fact that most of the crowd stuck around for the entire game, Tracee Hamilton of the Washington Post thinks real fans don't boo.  I whole-heartedly disagree, both with her premise and the idea of a reporter scolding me.  Here we go:
Forty thousand people turned up at Nationals Park on Tuesday night expecting Jim Riggleman to shout "Release the Kraken" as Stephen Strasburg strode to the mound for his 10th start.
Wow, quoting a crappy movie meme that was moderately annoying months ago.  Great lede.  You're off to a stellar start.
That's 40,000 people, but not necessarily 40,000 fans. Fans don't boo the hometown team because of a pitching change. Fans don't boo the long reliever who had a 10-minute warning that he was going to start. Fans don't get up and walk out because one player is out of the lineup, even if that player is Stephen Strasburg.
Did you consider maybe the fans were booing because they were pissed off at the situation?  Do you think half of the 40,000 people there even knew who Miguel Batista was?  They didn't care: they were upset because they probably paid a fair amount of money to see Steve and now at the last second, they found out he's not pitching.  Instead, they've paid $40 for a bleacher seat to see a guy who had a career record of 95-110 going into that night's game.  Also, were you at the game?  The stadium was packed up until the last out.
Hopefully much of the booing was expressing disappointment rather than disagreement with GM Mike Rizzo's decision. Rizzo did exactly the right thing.
Tracee, sorry to force your detour off the Pretentiousness Turnpike, but anyone who has read even one story about Steve's odyssey to the big leagues realizes this was the right decision.  No one was upset with Rizzo.  They were upset that they left work early, sat on a crowded train and dropped $40 on a ticket just for the privilege to watch Nyjer Morgan flail around centerfield.  Come on.
But a ticket to a baseball game is a ticket to a baseball game, period. It's not a money-back guarantee to see one particular player. If you buy a ticket to a Lady Gaga concert and Lady Gaga doesn't take the stage, then you ask for a refund. But in this case, we're talking about a team sport.
Here's another real-life situation sports fans can relate to: baseball games and Lady Gaga concerts!  Are you serious?  Let's say I get hit in the head one day and decide it'd be a great idea to buy a ticket to a Lady Gaga concert.  Even with said head injury, I don't think I'd ask for a refund if she didn't show up.  I'd consider it a wake-up call to reexamine my life choices.
In truth, everything about a baseball game is subject to change. Players can be injured or traded or sent down, even minutes before the first pitch. "Bull Durham," about another hard-throwing pitching phenom, includes many pearls of wisdom, such as: "Sometimes you win, sometimes you lose, sometimes it rains. Think about that for a while."
Another tired clichéd sports movie reference shoehorned amidst useless generalities that couldn't be more obvious… And this is just the first one I quoted… What's your point?
Pleasing a large crowd that includes both fans and Strasburg looky-loos is a challenge for the Nats. Baseball fans won't boo Rizzo's caution, but part of Strasburg's raison d'être is to attract non-baseball fans, not only to sell more tickets but also to try to convert them into a more permanent kind of fan, the kind who will buy tickets without the allure of Strasburg on the mound. It's hard to make converts, however, when they walk out in the first inning.
Hambone, were you actually at the game?  I was and I saw zero people leave the game in the first inning.  In fact, the majority of the crowd stayed until the last out, cheering as Matt Capps struck out the last batter.  Furthermore, why can't Nats fans be picky?  The team has been beyond crappy the entire time it's been in DC.  It's an organization that's been run on a shoestring budget by guys like Jim Bowden.  The team has been an embarrassment playing in a gorgeous stadium funded by taxpayer dollars.  You know what?  If people want to leave in the first inning, good for them.  They've earned it.  What have the Nationals done to garner any type of loyalty?  Drafting two really good players?  The riches of Steve and Bryce were rewards for ineptitude.
In "Bull Durham," Crash Davis tells Nuke LaLoosh, "When you were a baby, the gods reached down and turned your right arm into a thunderbolt."

He could have been talking to Strasburg. But the thunderbolt doesn't come with a lifetime guarantee.

And if the gods won't protect it, the Nats will.
Nailed it again, Master of the Obvious.