Friday, April 30th, 2010 at 12:09 pm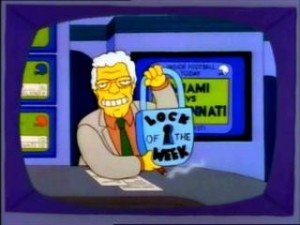 Was there a major upset in hockey this week?  I must've missed it.
Ok, I'll take the hit, let's have it.  The Capitals lost and my inspired prediction for this year's Stanley Cup Playoff is already busted.  But as Smooth Jimmy Apollo
once said
, "When you're right 52% of the time, you're wrong 48% of the time." 
Watching the Capitals the last three games of their series with Montreal was incredibly painful for any DC hockey fan.  Instead of the wide-open, rush-the-goalie style they've employed all year, they were completely unaggressive, playing not to lose.  Thirty-three times in this series the Caps had a power play opportunity and failed to convert on all of them but one.  Their three goals in Games 5-7 were the lowest three-game output they've had all year (previous low:
6
[!]).  And as a final kick to the nether regions, this is the second year in a row the team has lost a Game 7 at home.  Not good.
So where do they go from here?  Well, the core of the team should be back next year and with a farm team that has
dominated its league the last two seasons
, there should be more help on the way.  It's not much solace, but it's something… Until then, let's move on to some headlines:
So now a reformed drug addict with Elvis Presley-like tendencies (not the "Blue Hawaii" good kind) is calling Ben out?  Man, that is rough.  Luckily for Ben, it's not 2003 anymore, so it's unlikely anyone will actually listen to the song.
The stadium will now include unprotected upper decks so fans can throw themselves off them when the team loses… Or when the line at Boog's gets too long.
Miami Dolphins General Manager Jeff Ireland was criticized for asking draft prospect Dez Bryant if his mother was a prostitute.
How Jeff Ireland is still breathing on this earth is a mystery to me.  Part of me wonders if Jeff's just a little lonely.
Hmmm.  I wonder if it had anything to do with
this story
.  One hundred twenty mistresses is a pretty respectable number, Eldrick.  In fact, I'd wager that number is higher than Tiger Woods Fanboys
Jim Nantz
,
Scott Van Pelt
and
Verne Lundquist
, combined.  Here's why I think this story is crap: Elin wants a divorce because Tiger bumped uglies with the next door neighbor.  Right.  Your husband is sleeping with strippers and porn stars but you're more upset about the neighborhood girl?  Come on.  Six months ago, if you told me I could be anyone in the world at that moment, Tiger Woods would have easily been in my Top Ten.  Now?  Damn, I'd almost rather be Big Ben.  Almost.
Adding to the Rays good fortune, Patriots coach Bill Belichick
sent Rays manager Joe Maddon a personalized hoodie
.  I guess it's only a matter of time until we find out Maddon has cameras placed in centerfield to steal signs.  Not to be outdone, Washington Redskins coach
Mike Shanahan
sent Yankee manager Joe Girardi self-tanner.
LeBron James has reportedly won his second straight Most Valuable Player award.
Congrats to Bron-Bron.  However, with this award comes the ominous news that LeBron's elbow
is mysteriously injured
.  It's pretty clear what's going on here.  Know what happens when you play too many video games?  You hurt your elbow.  Through the magic of the Internet, I found LeBron
playing online
not too long ago.
That's it for this week.  No more predictions for 2010.  At least until football season starts.