Wednesday, May 22nd, 2013 at 10:10 am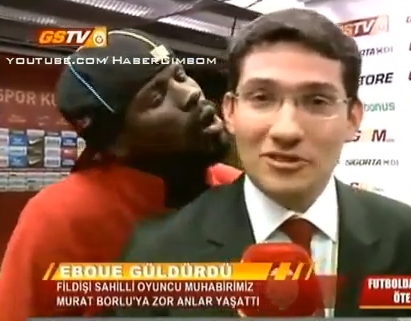 Former Arsenal and current Galatasary right back Emmanuel Eboue has taken to Turkey like a late night doner kabob to my stomach. A bit rough at times but it all works out in the end. He's settled into the squad which just won the Turkish Super Cup and Super Lig. Apparently everything is super in Turkey except Allen Iverson.
Eboue hasn't only found his form on the pitch. He's become a master of the post-game interview. Enjoy him discussing his celebration plans after clinching the league.

Kupa Töreni Sonrasu0131 Eboue ve Murat Borlu by citrusblack83
Don't think this was a one-off. Here he is back in March torturing the same interviewer.
This poor guy must have one job and that's to handle the Eboue interviews. Ataturk would be proud.