Tuesday, February 15th, 2011 at 10:57 pm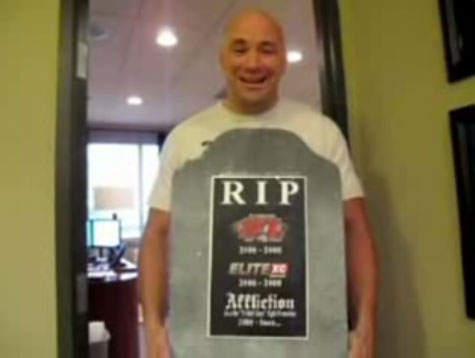 Former aerobics instructor turned Zuffa Lottery winner Dana White has a habit of shooting his mouth off. He also has a habit of burning fighters. To many, his comments are refreshing in an age where athletes and promoters are actively encouraged to say nothing and offend no one, an impossible feat unless you're Will Smith or somebody like that. To others, White represents a somewhat tired act of ingratitude, and his relationships with his fighters have run the entire spectrum of love and hate. So you basically want to give him a hug but then start to strangle him, like most of my sexual encounters.
Given what we already know, just take a guess what happened after Fedor got pounded in the cage last week and White had his smart phone (Now with 4G!) to tweet about it:
With plenty of longtime mixed martial arts fans on the emotional edge following the beatdown of Fedor Emelianenko, there was one man who was fired up to see the Russian go down in flames. Minutes after Fedor fell badly at the hands of Antonio Silva, Dana White hit Twitter, posted a smiley face and then opened up the blowtorch.
Longtime Fedor backers and fans of PRIDE were bent and White stirred the pot. He threw out barbs like "M-Done" for M-1 and "VaDummy" for Vadim Finkelchtein, Fedor's manager.
Twitter is terrific because athletes and celebrities can muse about all kinds of topics, most of which they know so little about that to even try to debate them would be a waste of time. This is not one of those times. Fedor chased quick paydays and tomato can opponents and built a reputation as the baddest heavyweight fighter walking the planet. Eventually everybody in MMA is going to go down. It's like when you buy your girl diamonds…they pretty much have to.