Wednesday, February 2nd, 2011 at 10:01 am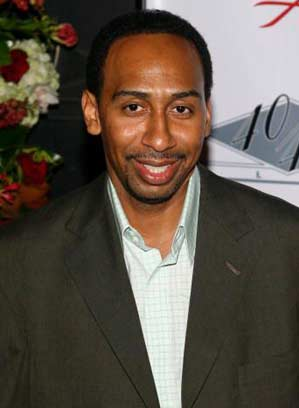 If you watched ESPN in the early 2000′s you may have observed a humorless man with an enormous forehead pontificating about the state of the NBA. It wasn't that Stephen A. Smith was particularly "good," but when your competition is Jalen Rose and Jon Barry, it's not exactly tough to stand out.
Okay, fine, Stephen A. Smith gives decent-enough interviews, and he is perhaps even a little less afraid to call athletes out then people like Michael Wilbon, who practically gives Magic Johnson a handjob every time ABC broadcasts a Celtics or Lakers game (really the only two teams that they air). Wilbon also won't criticize his famous athlete friends (cough, Donovan McNabb, cough). When Allen Iverson's Philadelphia homecoming soured, Stephen A. Smith reported AI's problems anyway. Journalists totally need to backstab their friends more!
Also, he did manage to make ESPN look ridiculous (not too difficult) when he reported days before ESPN that Lebron James, and Chris Bosh would be joining the Miami Heat and giving South Beach jersey chasers an instant orgasm.
It was reported by my sources (gestures to homeless person consuming cheap scotch) that Stephen A. was reduced to giving interviews in Philadelphia soup kitchens until recently. Good for him. With a face made for radio, it's perhaps only natural that Stephen A. will be taking his talents to the airwaves and the "series of tubes" we call the internet instead of making our ears and eyes bleed on NBA Live.
"Words cannot express how excited I am to return to ESPN," said Smith.
I am speechless, everybody! Oh, maybe just a quick word…
"The five-plus years I spent here in my previous stint were unquestionably the best years of my professional career. To have the opportunity to return to a place where I have an abundance of friends – with individuals whose contributions to my life, both professionally and personally, deserves far more credit than I can describe – simply makes my return that much more special. I'm sincerely grateful. And very, very ready. As in right now. Let's go!"
Stephen A. does sound elated, and perhaps relieved. With that ESPN money coming back in at least he can maybe afford to hire bodyguards again.