Thursday, March 10th, 2011 at 8:30 am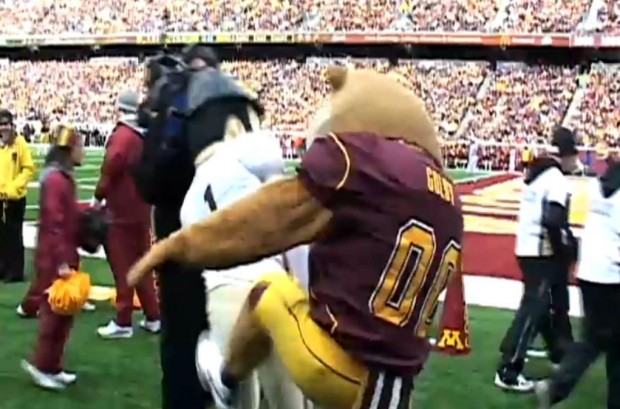 Who says hair metal is dead? Ronnie James Dio may have holy dived his way into the grave but Dokken is going strong. First they became the face of a Norton Anti-Virus ad campaign and now they're avenging mascots who have been wronged. The University of Minnesota's Goldy Gopher probably thought he was getting away with kicking another mascot in the ass. He was wrong.
Dokken…Wait. It's not the band Dokken? Whatever. 60 year-old Douglas Dokken has been banned from several Minnesota sports facilities after punching Goldy in the face during a gymnastics meet.
During the meet, the University of Minnesota mascot sat behind Douglas Dokken, 60, and started "messing with him," witness Barry Colthorpe said. Goldy tapped Dokken on the shoulder and ruffled his hair.

Colthorpe said Dokken was ignoring Goldy's antics, but within a couple of minutes, he snapped, turned around and punched Goldy in the face.

Goldy froze, but within moments of the first punch, Dokken wailed another, forcing Goldy to leave the area.
First the Cincinnati Bearcat gets arrested and now this. Is there a c-o-n-spiracy against college mascots?
Dokken was cited with disorderly conduct and barred from the Sports Pavilion and Williams Arena for a year. Goldy can breathe easy for 365 days. All bets are off after that. Better call Jerome or Kevin Love for protection.