It's Only January and Skip Bayless has Already Written the Dumbest Sports "Article" of the Year
Thursday, January 10th, 2013 at 7:16 am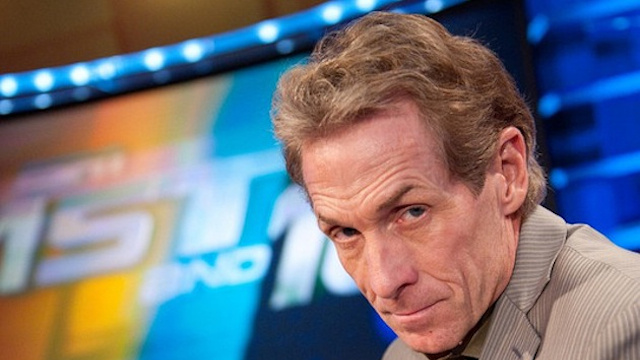 In an industry that seemingly devolves day after day, finding the most inept, inane sportswriter can sometimes prove more difficult than expected. Last year, the title was pretty much up for grabs until the fall, whereupon Mitch Albom blew away the "competition" with a steaming pile of word turds related to the AL MVP race. This year, however, I think we can give the damn thing out right now:
The cold, hard truth: [Indianapolis Colts] Owner Jim Irsay made a monumental four-year mistake when he ceremoniously cut Peyton Manning last March. And Irsay and his new general manager, Ryan Grigson, compounded that calculated blunder last April by drafting Andrew Luck overRobert Griffin III.
Our boy Skip then spends a few hundred words actually criticizing the Colts for drafting Luck, the consensus top NFL draft prospect for 2011 AND 2012. The guy who in 2012 led a 2-14 team to an 11-5 record. The rookie quarterback who was durable enough to take just about every snap this year. The man who broke rookie passing yards records for a single game AND entire season. Oh yeah, that guy. What a loser.
Look, I love me some RG3. While I think Adrian Peterson deserves the MVP, I wouldn't pitch a fit if Manning took the award home as well as the Comeback Player of the Year trophy. And despite the fact that Jim Irsay is one of the 10 most annoying people in sports (g'head, find me 10 more — Steinbrenner's dead!), this is quite simply some of the dumbest shit I've ever read.
I get that this is all part of Skippy's "troll charm," and really, we should stop paying attention. I get that. But BS like this is patently unacceptable for a low life like me, much less an organization like ESPN. Someone please tell me — how is this crap any less offensive than Brent Musberger leering at Katherine Webb?
Tagged with: Andrew Luck • Indianapolis Colts • Jim Irsay • NFL • Peyton Manning • RG3 • Skip Bayless
Filed under: Uncategorized
Like this post? Subscribe to my RSS feed and get loads more!