Is this the Most Annoying Super Bowl Match-Up Ever?
Thursday, January 24th, 2013 at 7:22 am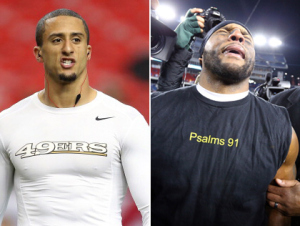 I began fearing the potential of a "Harbowl" over a year ago. Last winter, we received a reprieve from that dreadful moniker but alas, no such luck this season. On Sunday evening, when it was all but certain Baltimore would advance to play San Francisco in Super Bowl XLVII, I tried to find a rooting interest. I reviewed all of the salient points — I once lived in Baltimore for three years; my favorite quarterback of all time is Joe Montana; like me, Steve Young is a handsome, dark-haired attorney; and also like me, Joe Flacco fights to protect facial boundaries from an aggressive unibrow. But I'll be damned if I couldn't find one legitimate reason why I'd want either team to win: they are both easily detestable. Let's break it down: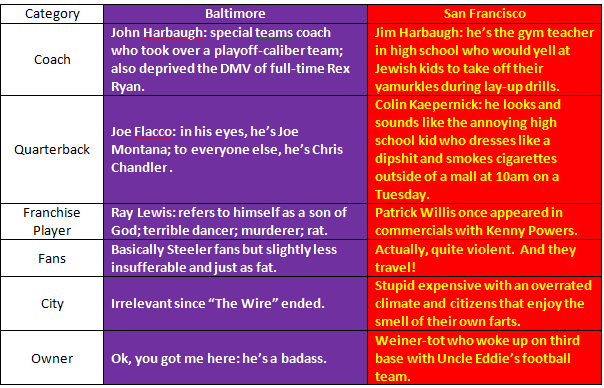 So basically what you're telling me is that I'm left with picking between Patrick Willis and Steve Bischotti? Perhaps an exciting Harbaugh Bowl SuperBaugh Brother Bowl Super Bowl XLVII just wasn't meant to be: from replacement refs to head trauma to the coaching carousel, maybe the NFL is just having an off-year. Maybe, Roger Goodell can start making the Super Bowl more meaningful by bringing back the sweet location-themed logos. Either way, I have a week to make this game interesting. Otherwise, it's going to be up to bourbon and/or gambling. Please don't make me go there, Rog!
Tagged with: 49ers • Baltimore • Colin Kaeprnick • Harbaugh • Harbowl • Jim Harbaigh • John Harbaugh • NFL • Patrick Willis • Ravens • Ray Lewis • San Francisco • Super Bowl XLVII
Filed under: Uncategorized
Like this post? Subscribe to my RSS feed and get loads more!