Girls They Love They Love Him Cause He's The Big Ass Fro Fellaini
Thursday, January 3rd, 2013 at 9:42 am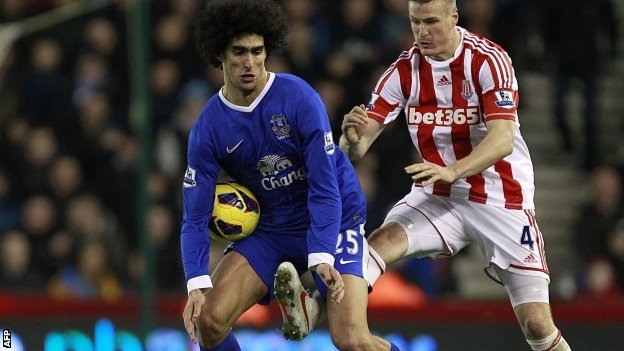 Imagine a throng of women scaling the walls of a residential compound and racing towards the main house. Security cameras set in the eyes of replica Manneken Pis statues, which upon further inspection are nothing more than statues of a grown man with an impressive afro taking a piss, catch shadows as they draw closer to their prey. Inside the house, a man wearing an Everton jersey and resembling a shiitake mushroom curls up in a fetal position and sobs to himself as he prepares for the inevitable. The noise gets louder as the hoard gets closer until the front door falls in with a loud crash and the ladies pour in. "'Ello love! Which one uv us is you takin' out tonight?!"
You haven't made it as a soccer player in Liverpool until the scousers rob your house. It's too bad Marouane Fellaini couldn't make the grade. There's no shame in hiding your tail between your legs and fleeing to Manchester. He won't be the first or the last but he definitely has the best excuse.
'I am living in Manchester now, because in Liverpool, the women were crawling for me,' Fellaini said.

'It was too much. In Manchester, people don't recognise me that much and tend to treat me in a more respectful way.

'I don't want to be a star. I just want to play football.'
You can strip their house down to the copper wiring but scouse women on the prowl is what sends the boys running to the hills like Iron Maiden.
Tagged with: Heavy D • Liverpool • Marouane Fellaini • Scousers
Like this post? Subscribe to my RSS feed and get loads more!