Peyton Manning's contract extension is looking better and better pt. 2
Friday, September 9th, 2011 at 7:34 am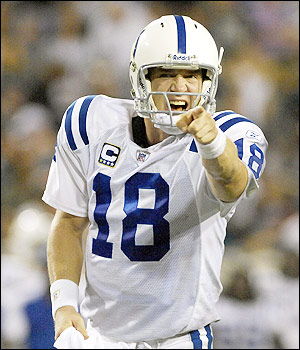 In continuance of unreasonable gloating by yours truly, I criticized the Manning extension earlier this summer, mostly because I thought it was a shitload of greenbacks to throw at a guy who just had a second neck surgery in 15 months, and I didn't think that the word "charity" should have been applied so liberally to the consummation of the deal. Unless Manning is donating his salary to one. He's not.
Earlier this week, we learned that Manning was out indefinitely, and that he was having a third neck surgery, a bad sign unless you're a Patriots or Jets fan. But now, in spite of my best efforts, I look Peter Kingesque in trying to predict something, getting it partially correct, and then helping myself to self-praise. News of MTV's-the-head-lookalike and DirecTV spokeswhore Peyton Manning's third neck surgery in 19 months is easily the biggest story in the NFL heading into week one. Now, Florio over on Profootballtalk is reporting that Manning's 5-year $90 million extension did not come with the requirement that Manning pass a physical.
Holy shit who let that happen:
Per a league source, that new five-year, $90 million contract was given to Manning without the quarterback having to pass a physical. In other words, he got $20 million to sign, and the Colts didn't insist on obtaining medical clearance that he can play before giving it to him. (He eventually passed a physical before being cleared to practice last week — before suffering the setback that caused the latest procedure.)

With the Colts choosing to keep Manning on the active roster, he'll also pocket his $3.4 million base salary for the new season, along with a $3 million roster bonus tied to Manning being on the 53-man roster for any one game in 2011.
Polian? Wow.
So why did the Colts sign Manning to this deal in the first place? Peter King of NBC and Sports Illustrated explained during the debut of NBC SportsTalk that the Colts had no concerns about the most recent surgery at the time it was conducted in May 2011, and that team Vice Chairman Bill Polian said on the day of the prior procedure that it would not impact the contract talks.
Six-time NFL executive of the year Bill Polian has announced a groin-kicking booth setup for Lucas Oil stadium's home opener to encourage fan attendance. Better make room on that shelf for a 7th trophy (do they get a trophy? Let's pretend they do.).
Tagged with: Bill Polian • NFL • Peyton Manning
Filed under: Uncategorized
Like this post? Subscribe to my RSS feed and get loads more!