Mike Florio tells you how to interpret the news
Thursday, September 29th, 2011 at 10:22 pm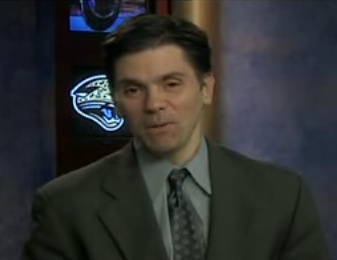 NBC was once a proud network in the days of Seinfeld and even Friends. But then NBC greenlit Joey, and Outsourced, and then they went through a very public divorce from Conan O'Brien, and well…it's not been a good couple of years.
So now NBC is trying desperately to become the new home of all football news and as part of that mission/goal, they are giving unbearable, leprechaun, douche-fanboy Mike Florio more air and webtime. To his credit, Florio has turned his basic website, Profootballtalk.com, into a mini-empire. Dick Ebersol rarely misses on anything, so why would this be any different, right?
(fart noise)
Why, Florio is even appearing on television with Peter King! Florio also likes to try to create stories, or put his own spin on them. He also loves to brag about his influence in the industry.
In March 2010, after the NFL combine, Florio erroneously reported that Tim Tebow called for a prayer before the Wonderlic test and that someone told him to "Shut the F— up."
Last January 2011, Florio lashed out at Packers QB Aaron Rodgers for allegedly ignoring a cancer-survivor fan who was seeking his autograph at the airport. Florio helped build the story through his site, and then when all the facts came out he walked it back, to his credit, like a man.
In March, while the lockout was going on, Florio predicted total calamity unless the parental NFL was restarted to keep their irresponsible adult-age players from committing unspeakable crimes.
A few weeks back, after week 1, Florio planted the idea that Matt Ryan was a choke artist, and that Ryan was going to shit the bed against the Eagles at home in the Georgia dome. That didn't happen, and Florio didn't say a word.
Now Florio is claiming that Peyton Hillis, the Madden coverboy and Jesus freak, sat out last Sunday's victory over the winless-Miami Dolphins with strep throat over a contract extension that the Browns and Hillis' representation are working to get done, despite evidence that Hillis, well, had strep throat and was sent home.
Though many will point to the Madden curse as a reason for Hillis missing a game due to a case of strep throat, we're more inclined to wonder whether Hillis' unwillingness to play was influenced in any way by the lack of a new contract. Hillis continues to earn the fourth-year minimum of $600,000. If the team had made a long-term commitment with a big-money bonus, would Hillis have been more willing to give it a try?
Maybe Hillis lost those 10-12 lbs. over the stress of negotiating a new contract with the Browns. Or maybe Florio just sucks.
Remember that scene in "Revenge of the Nerds" when Hiroshi is collecting all the Alpha Beta's sweaty jocks after practice and Stan Gable pulls his over Takashi's head. That's Florio, except he went home and made a snow angel in them. Then called Stan's house and breathed heavy into the phone.
Tagged with: Cleveland Browns • Mike Florio • Peyton Hillis • Profootballtalk
Filed under: Uncategorized
Like this post? Subscribe to my RSS feed and get loads more!