Tiki Barber still exercises plenty, Dolphins management
Thursday, August 4th, 2011 at 8:00 am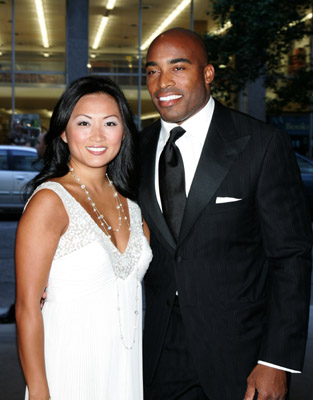 Alien baby offspring and evil twin Tiki Barber would like to resurrect his dormant NFL career for anybody who will have him. Unfortunately, Barber has not played football since 2006 and he made sure to shit all over his potential supporters on his way to a failed broadcasting career. But, is there hope? Well, probably not.
Give me a reason to believe, Jay Glazer:
First Tiki sighting. Tiki Barber worked out yesterday w the Dolphins. Heard he looked good, Fins 1st wanna see how their current crop does.
To recap, Tiki Barber did a series of drills and exercises in shorts and a t-shirt in front of people employed by the Miami Dolphins, and then went home. Tiki could have just taken an aerobics class in a first-floor studio by the stadium to accomplish the exact same thing.
Tagged with: Miami Dolphins • New York Giants • NFL • Tiki Barber
Filed under: Uncategorized
Like this post? Subscribe to my RSS feed and get loads more!