Tito Ortiz would have you believe he has won a fight since 2006
Friday, June 24th, 2011 at 12:36 am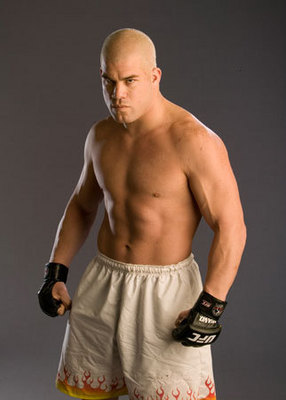 Overrated loser Tito Ortiz made his career pummeling UFC legend Ken Shamrock in the twilight of a fine career, he literally hasn't been anybody else since Shamrock. Their fights drew huge numbers on PPV and Ortiz was a made man after that. After losing badly to Lyoto Machida (some may dispute this because of the triangle choke Ortiz almost sunk in, but before that Machida dominated) in his first farewell to the UFC, Ortiz briefly resurfaced in Elite XC before crawling back to Dana White after the promotion crumbled.
His big "comeback" fight was against Forrest Griffin (decision); his next comeback fight was Matt Hamill (decision) He pulled out of a fight with Chuck Liddell at the culmination of the Ultimate Fighter television show last year to have back surgery and probably because Liddell already beat him, too.
He still talks just as much shit as he did when he was winning fights; so naturally, the "worldwide leader in sports" has given Ortiz a platform to voice his opinions on…himself.
Dismissively wank for me, ESPN:
But people need to look at the big details to know what's been happening in these fights. I'll never be someone who accepts second place — never — but, honestly, I feel I have won some of these fights.
FORGET WHAT THE RECORD SAYS, FOLKS, I AM A WINNER!
After Chuck Liddell beat me in December 2006, I took on Rashad Evans, who went on to be a world champion and has lost only once since. And I beat him. It was only a "draw" because I got a point taken off for the one, single time when I grabbed the fence. It was a draw, but I was the better fighter in the cage. I won.

Then I fought Lyoto Machida, a great fighter who also went on to win the world title. I almost caught him in a triangle and tapped him out. He admitted he thought he was going to pass out. I lost and it sucked, but I was competitive.

Next was a rematch with Forrest Griffin, whom I beat earlier in our careers. I didn't get the decision this time, but a lot of people felt I won two rounds to one. Again, I was more than competitive with a top-5 guy.
Conceding his point about Evans and (maybe) Machida, I completely disagree about Griffin. Ortiz looked slow, and old in that bought. He looked just as bad, probably worse, against Hamill. Ryan Bader may have to go for a jog after this fight just to get a real workout in.
Tagged with: Dana White • Forrest Griffin • Ken Shamrock • Lyoto Machida • Matt Hamill • Rashad Evans • Ryan Bader • Tito Ortiz • UFC
Filed under: Uncategorized
Like this post? Subscribe to my RSS feed and get loads more!