We Gotta Get Out of This Place: the Five People in Sports that Need a Vacation
Tuesday, May 3rd, 2011 at 7:11 am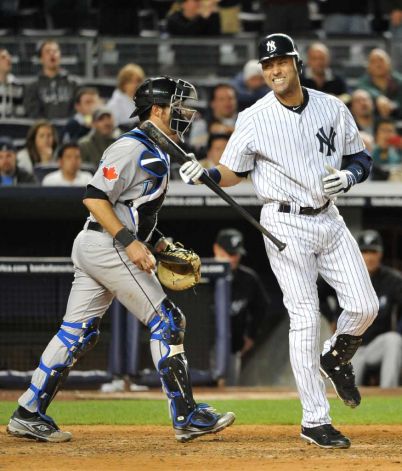 If you're anything like the average American, you haven't had a day off in a quite awhile. President's Day was the last "official holiday," but that one sucks because a) not many people get that day off, and b) it's smack-dab in the middle of February — quite possibly the worst month of the year. The next respite might come in the form of Memorial Day, which is a) about four weeks away, and b) is traditionally a weekend reserved for weddings and/or mattress sales. If that wasn't enough, your allergies are probably killing you as it's been raining for what seems like four out of every five days. Well, the Deuce feels your pain. We're right there with you. And you aren't the only ones who could use a break. Here are five athletes/coaches that feel your pain:
1. Derek Jeter: After spending an entire winter seething over the way the Yankees dealt with his free agency, Jeter spent Spring Training dodging questions about his new swing and pay cut. One month into the season, Jeter's hitting a paltry .242 with a Juan Pierre-esque .263 slugging percentage. His teammates are lapping him in most offensive categories as his arch nemesis, Alex Rodriguez, is enjoying somewhat of a comeback season. Jeter's also hasn't homered in his last 350+ plate appearances and there are stirrings that he will be dropped in the lineup. Granted, he's going home to Minka with $17M a year, but for a guy who prides himself on being the best, the calls will only be louder for him to consider hanging it up should his struggles continue.
2. Bruce Boudreau: Down 0-2 and headed on the road, the Washington Capitals coach could be manning his last few games behind the bench. Sure, things were swell when the Caps knocked off the Rangers in five, but losing two straight games at home as the number 1 seed against a 41 year-old journeyman goalie with a sub-.500 career record doesn't bode well for a team that has become perennial playoff doormats. An 0-2 deficit is hardly a death sentence in the NHL, but a continued failure on the power play (0-11 in the series so far) and repeated elementary mistakes like bad line changes merits a changing of the guard if the Caps lose this series.
3. Atlanta Braves: Picked by many to make the playoffs this season, the Braves' 2011 campaign held a lot of promise. Thirty-plus days into the season, well, things fall apart. As of last night, the team was below .500 and five games out of first place. Pitching coach Roger McDowell, doing all he can to destroy the credibility he earned for his "Seinfeld" cameo, was just suspended two weeks for making a homophobic ass out of himself. Derek Lowe was so excited for "Fast and the Furious 5," he decided to get loaded and do a little Tokyo Drifting of his own, much to the chagrin of the local po-po. Dan Uggla is off to a rough start, hitting .194. Things are looking up, however: manager Fredi Gonzalez has finally come to his senses and is no longer batting Jason Heyward sixth.
4. Jimmy Clausen: Last year, Clausen was a draft day steal. Coming to a team with a 20-12 record from '08-'09 that had practically dumped all reasonable QB competition (if you can call Jake Delhomme "reasonable competition"), Clausen was basically handed the starting job. Well, to say he struggled was an understatement: so much so that the three-win Panthers drafted the unproven and intangible-challenged Cam Newton at number one overall just 365 days later. Adding insult to injury, Cam also happens to wear Jimmy's beloved #2. When asked if he would give it up for the ballyhooed Heisman winner, Clausen seemed insulted. Judging by how Clausen played last year, we'd advise Cam to hold out on giving the kid anything. Not that dad Cecil Newton needs any negotiating help, anyway…
5. Mark "The Machine" Hominick: I don't like to traverse into other people's playpens, but seriously, this dude looks like how I felt the morning after my 21st birthday. The next time you think your job sucks, the cost of gas is too high, your friends are lame, or wondering why Erin Andrews was in town but wouldn't return your calls, well, it could always be worse: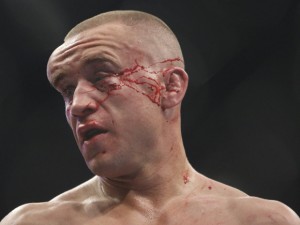 Tagged with: Atlanta Braves • Bruce Boudreau • Cam Newton • Derek Jeter • Erin Andrews Would You Like to Meet for a Drink I Swear I'm Totally Normal and Successful I Just Do This Blog Thing For Fun • Fast and the Furious • Jimmy Clausen • Mark Hominick • MLB • NFL • NHL • Roger McDowell • Second Spitter • UFC
Filed under: Uncategorized
Like this post? Subscribe to my RSS feed and get loads more!