Ciroc, The Wizards and Me: A Love Story
Tuesday, April 12th, 2011 at 7:46 am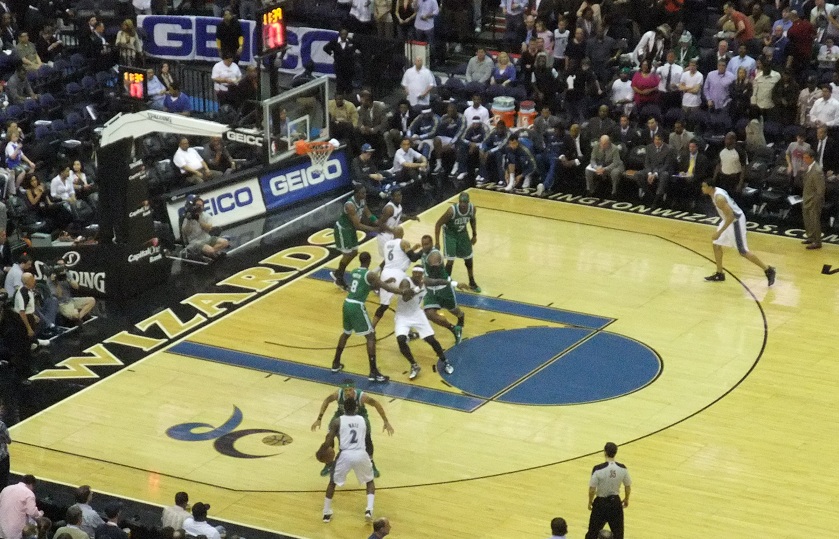 Obviously, I love sports, I run a sports blog for crying out loud. I also, and you might not know this, love me some alcohol, especially free alcohol. Last night, these two great loves formed like Voltron into one fantastic event thanks to the good people of Ciroc Ultra Premium Vodkas when they invited myself and a bunch of other fellow bloggers and media members out to watch the Wizards play the Celtics at the Verizon Center.
The reason Ciroc was throwing this bash (other than to provide us with samples of their fine alcohol) was to promote responsible drinking and providing all event goers free metro cards so they could have a safe ride home after the game without any sort of drunk driving going on. I even personally took the metro home after the game. Buzzed driving is drunk driving kids, remember that.  Take a cab or public transportation if you're boozing it up like a champ.
Anyway, I was there with Punte (aka Josh Zerkle aka Monday Morning Punter) from With Leather, the House of Punte Podcast and Kissing Suzy Kolber, Phil the main man from Gunaxin, Don Everest from TheMatadorSports and Kevin Burke from The Hoop Doctors amongst others….including the gorgeous Ciroc girls and Wizards cheerleaders.  You want pics? You got pics. Bam.
The game was really quite secondary to the safe rides promotion and boozing, schmoozing and fooding the event offered mostly because the Celtics decided to play their bench and their bench's bench players…and the Wizards starters just kinda suck are rebuilding. The Celtics' biggest stars didn't even make the trip down to D.C. for the game. Essentially, we witnessed a glorified intramural game. I've seen more set plays in JCC games than in this one.  It was marginal playground ball at it's best moments and garbage time for the rest of it.  The game ended up going into overtime and it became surprisingly exciting leading up to the finish (or that could've been the alcohol) with the Wizards pulling out a win, 95-94.
For some reason, in addition to watching the game in a luxury suite, we obtained some press passes and got to venture on down to the locker room after the game to try our luck at interviewing players and try our hardest to look like we fit in…we all failed miserably at both.  I left soon thereafter to go drink more with Zerkle and a good time was had by all.
So, in summary, a great night. The best part of the evening by far…Gheorge Muresan stopped by the box. I don't get star-struck often but in this case I made an exception. I love Gheorge. I mean, everyone has to love Gheorge!! I had to take a picture.
How can anyone not smile when this man walks into the room?  I dare you not to have fun with this man.  I DARE YOU! HIS HEART IS FULL OF RAINBOWS! He ended up sticking around for about 4 1/2 minutes of awkward conversation about the state of the Wizards, lottery picks, the upcoming NBA playoffs and his utter lack of knowledge about what the jerseys will look like for the 'Zards next season.  At least, that is what I think he was saying.
That's about it. Thanks again to Ciroc and the Wizards for the good times. See you guys next year I hope.
Tagged with: Boston Celtics • Ciroc • John Wall • Kevin Garnett • NBA • Paul Pierce • Ray Allen • Safe Rides • Vodka • Washington Wizards
Filed under: Uncategorized
Like this post? Subscribe to my RSS feed and get loads more!