Bon Jovi Swears These Six Words To The NRL: He'll Be There For You
Wednesday, April 13th, 2011 at 9:08 am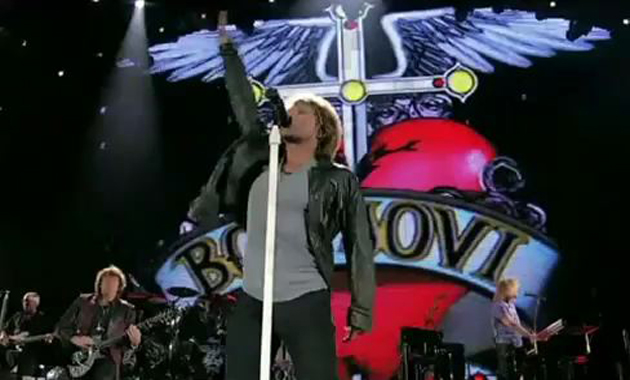 If you're pissed at the NFL and NBA for using acts such as the Black Eyed Peas or Faith Hill for their theme music, blame the NRL. Australian rugby league has been using mediocre music since the late 80s to promote their brand. Several months ago, we brought you the homoerotic Tina Turner joint that introduced the 1989 NRL season. Bear down even.
Since that debacle, the NRL hasn't been able to pump anyone up for what is legitimately one of the toughest sports in the world. The league has used artists such as Tom Jones, Frankie Goes To Hollywood, Hoodoo Gurus, Chumbawumba and "racing car noises" in the past. 2011 is no different. Enter Bon Jovi with "This Is Our House".
That's one step above Tracie Spencer's "This House". That song doesn't make you think bonecrushing tackles and concussions being handed out like food at a soup kitchen. It makes you think of, well American sports. Let's find the most non-threatening, milquetoast music that will make people who aren't watching or interested tune in. "I always hated football but now that Faith Hill is singing the theme song to Sunday Night Football, I'll tune in. That Joan Jett original was too controversial and she's a lesbian anyway." The PR and marketing people for Aussie Rules must be chuckling as they seek out Megadeath and DMX.
I was going to stick to Bon Jovi but I decided to actually look up NRL theme songs from the artists I mentioned. Check them out after the jump but I warn you they aren't much better.
1998: Tubthumper by Chumbawumba
Not much to say about this song that hasn't been said over the years. I'm guessing this song was chosen to give fans an idea of what rugby players do when they aren't on the field. They drink some whiskey drink. They drink some vodka drink. They drink some lager drink. They drink some cider drink. Repeat. Just add fight and that's your average day off in rugby league.
2000: What A Game by Tom Jones
Taking it back to the old school with greased up players and Tom Jones. All I can think of when I hear this is a group of drunk girls singing "Whatta Man" in a bar at the top of their voices and trying to do the rhythm-less, white sorority girl dance. I think the NRL used those same girls in the video. I think of 60 year old women throwing their underwear or Depends on stage when I hear Tom Jones and the NRL doesn't disappoint. Those old people would be front and center during "Sex Bomb".
1997: Frankie Goes To Hollywood – Two Tribes
I couldn't find the NRL version of this song meaning I did nothing more than a cursory YouTube search. We'll just go with the original. Don't get what this has to do with rugby. League or union. The song itself isn't bad. However it reminds me of the time when I got my first fake ID in Chicago. Some friends and I went to a bar on Belmont to test it out. Keep in mind the guy on the ID was five shades darker than me. He was also 4-5 inches taller and much skinnier. Success! The one time I was cool with all black people looking the same to white people. We enter the first bar, get some drinks and settled in. Soon we noticed there were a lot of guys in there and no women. That was strange. Suddenly we realized we were in a gay bar and we weren't nearly as clever as we thought. Fresh meat. Oh Two Tribes was playing in the bar.
The NRL has been doing this since the 1980s when they started out with Thin Lizzy's "The Boys Are Back In Town". They haven't gotten much better but then again maybe they're hitting the demographic they want. If these song choices and videos represent that, they're right on target.
Tagged with: Australia • Bon Jovi • Rugby League • Theme Songs • Tom Jones
Filed under: Rugby • Theme Song
Like this post? Subscribe to my RSS feed and get loads more!