Bryce Harper, Setting DC Up For Another Massive Letdown
Tuesday, March 1st, 2011 at 11:01 am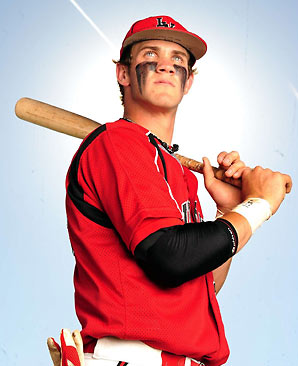 Young Washington National, Bryce Harper, played in his first simulated game against real major leaguers yesterday afternoon and do you want to guess how he fared in his two at bats?  Well he struck out twice.  Disappointing?  Totally! Surprising?  Not in the least.
It just can't be surprising if you've followed sports in this town for the last twenty years.  DC has been full of young athletes with promise that only serve to let us down over and over again.  We have had several high draft picks or young phenoms that have come into this town and failed, sometimes in spectacular fashion.  DC might actually be one of the worst cities in all of sports in terms of positively assisting in a young athlete's growth.
Plus, he's super young (big strike against him), he's super confident (can he handle not having immediate success), and he's super inexperienced (can he handle injuries, can he handle the life in the big city, can he handle his money). The odds really are stacked against this kid unless the stars align.
The stars rarely align in DC however. If history is our guide, Harper will be yet another huge disappointment. So let's look at a brief history of the other highly touted disappointments DC has had, at least in recent memory: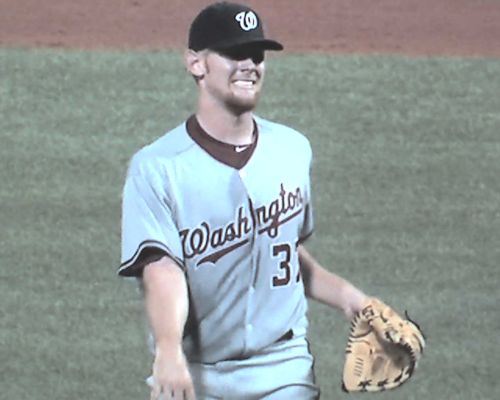 Stephen Strasburg
Ok, so sure, its a little early to judge the whole career of this kid but c'mon, he blew out his arm in his first taste of the majors.  That is a huge disappointment.  Especially from a pitcher who can only be compared to the likes of Doc Gooden, who never took care of his body and in fact abused it to hell with drugs and partying but still managed to avoid Tommy John surgery his entire career.  This city named the day that Strasburg pitched "Strasmas!" for crying out loud. What a huge disappointment that in his FIRST YEAR he blew out his arm.
Sure he could recover from it and be as good or even better than what he was those first few starts he had for the Nationals.  On the other hand, he couldn't.  Knowing DC superstar disappointment history…he probably won't. As of right now, this whole city is disappointed that Livan Hernandez will be tossing out the first pitch on opening day instead of Strasburg.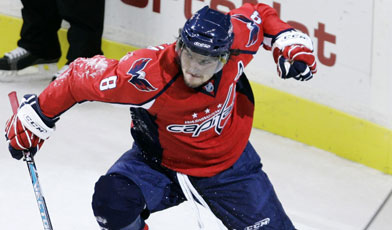 Alexander Ovechkin
This guy was supposed to be a combination of Wayne Gretzky and Mario Lemieux with a dash of pre-concussion Eric Lindros in there.  A big guy, unafraid to mix it up, who was agile, fast and an unstoppable scorer.  He was supposed to be the best. For a little while, there might've been an argument that he was the best, this year however, he isn't even close.
With 24 goals in 63 games, Sidney Crosby is STILL ahead of him even though he's been out with a concussion for what seems like half the year.
This isn't even the real problem with Ovechkin however.  All of this season stats could just be a massive, season-long slump. A blip on the career of an incredible player.  Its way too early to tell.  The real problem with Ovechkin is that he has never won anything, anywhere.
Great players are supposed to elevate the talent around them…or at least win a championship at some point.  That Ovechkin hasn't been able to do that yet, despite teams full of massive talent and promise, is INCREDIBLY disappointing.
Gilbert Arenas
This guy came to DC with all the talent in the world. Statistically, from 2005-2007 he was one of the most productive players in the league averaging around 28 points, 6 assists and 4 rebounds a game.  Basically, he was playing at a Kobe Bryant level of basketball.
Then, of course, it all unraveled.  His team couldn't stay healthy, he couldn't stay healthy, finga gunz happened and then he gets traded away for bag of bricks.
Chris Webber/Juwan Howard
These guys were a part of one of the most entertaining college basketball teams ever and they were the core of a Bullets team that was supposed to do great things.  Instead, obviously, they were a MASSIVE disappointment.  Too much partying, too poor coaching, too little help around them, Chris Webber blowing out his shoulder over and over again, Rod Strickland puking up hot dogs on the bench, having Gheorge Muresan as their center all of it derailed their careers and their time in Washington and made for one gigantic disappointment for two talented players that came into town with so much promise.
Sean Taylor
He never fulfilled his ultimate potential through no fault of his own since he was murdered, but that he never fulfilled his potential is why he is on this list.  Taylor was one of the baddest football players on the field every single Sunday and at first it looked like he was going to prevent himself from achieving football greatness.  Then it seemed clear that Dan Snyder and his meddling habits would prevent him from being all he could be. Finally, it was a bullet that ended what could have and should have been the career of one of the greatest safeties to play the game.
Freddy Adu
What the hell happened to this kid? At 14 he was the youngest player to sign a professional contract and he was playing in the MLS for the DC United.  Three years later this "phenom" was out of the league and bouncing around Europe. For a kid that was supposed to be "the next great" he has been anything but, scoring just 21 goals in his entire 7 year career.
There's been more, you could toss in Patrick Ramsey, Heath Shuler, Desmond Howard, Michael Westbrook, Tom Gugliotta, Calbert Cheaney, pretty much every top pick the Capitals had in the 80s and 90s shoot even Barack Obama but these are just a few to remind the many that Bryce Harper not only has to overcome being an 18 year old kid in a man's game, instantly getting wealthy, adjusting to major league pitching, learning a new position etc…but he has to overcome being a young athlete in Washington DC.
Tagged with: Alexander Ovechkin • Bryce Harper • Chimps NFL Pick Em • Chris Webber • DC United • Freddy Adu • Gilbert Arenas • Juwan Howard • MLB • MLS • NBA • NHL • Sean Taylor • Stephen Strasburg • Washington Bullets • Washington Captials • Washington Nationals • Washington Redskins • Washington Wizards
Filed under: Uncategorized
Like this post? Subscribe to my RSS feed and get loads more!