Shyne And Now Larry Johnson: Kosher Is The New Hotness
Tuesday, February 1st, 2011 at 11:32 am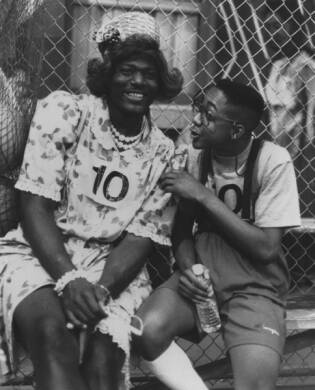 First Shyne goes orthodox and now this. Larry "Grandmama" Johnson is pushing kosher drinks.
Grand Ma Ma Sweet Southern Tea ® ― Inspired by the sweet tea from his childhood in Texas and from the famous character created in his series of commercials for Converse, Larry will be introducing the Grandmama's Sweet Southern Tea in the coming months. This line of flavored teas is currently in development and will come in sweetened natural flavors reminiscent of the cool refreshment from hot summer afternoons sitting on the porch at Grandmama's house.

Nobody makes iced tea the way your Grandmama makes it!!
I'd make a joke here but I don't need the ADL and B'nai B'rith on my ass. If Larry Johnson wants a comeback that bad, he needs to convince Tyler Perry or Martin Lawrence to let Grandmama into one of their movies. There's enough shame to go around.
Tagged with: Kosher • Larry Johnson • Product Endorsements • Shyne
Filed under: Uncategorized
Like this post? Subscribe to my RSS feed and get loads more!