Manchester United To Play Half-Court At Wrigley This Summer?
Wednesday, January 5th, 2011 at 8:34 am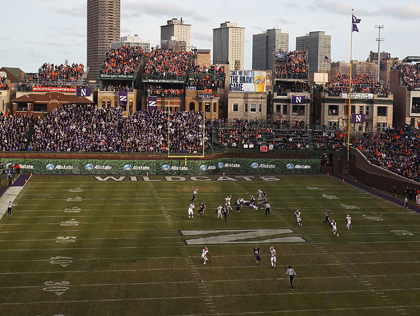 Who's got next? It's one thing when Willie Mays goes flying into the wall to make a catch. It's another when Paul Scholes wildly slides into the ivy and breaks his leg trying to make a tackle (or take someone's knee out depending how you look at it).
The Chicago Tribune is reporting that talks are underway for Manchester United to play a match at Wrigley Field this summer during their American tour. United's shirt sponsor AON is based in Chicago (getting 'Nam-like flashbacks to working in that building).
One soccer source told us "the game is currently on the 1-yard line with 99 yards to go. But it is a definite possibility."
Wrong kind of football, source.
Northwestern and Illinois were forced to play one way due to the ivy walls being too close to the end zone. The technology doesn't exist to spin the field like in NCAA 2011. It probably does but the Pentagon isn't going to give it up.
It would be interesting to see if they can pull it off but the college football experiment this fall wasn't that great. Fans were too far away from the field of play. The proximity of the outfield wall changed the complexion of the game. Maybe it was different for people at the game but viewing it on TV became old fast. Then again sitting on a rooftop watching a Cubs game across the street is something every baseball fan should experience at least once in their life. Watching soccer with kegs … Oh sweet Old Style.
If United plays someone other than the Fire, the game should be at Soldier Field. However if they're playing the Fire, meh. They could play in Lincoln Park.
Tagged with: Chicago • Illinois • Manchester United • Northwestern • Paul Scholes • Soccer • Wrigley Field
Filed under: Uncategorized
Like this post? Subscribe to my RSS feed and get loads more!