UFC 121: The Jury is Out On Brock Lesnar
Monday, October 25th, 2010 at 1:53 pm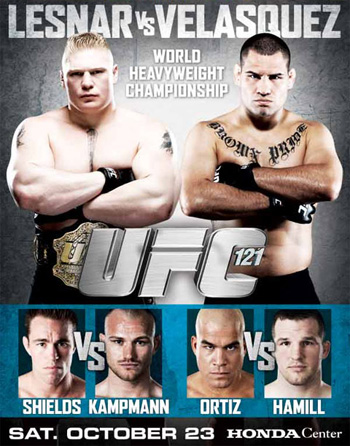 Coming off of an impressive run-down of UFC 120 and a delayed trial, Deuce of Davenport resident MMA expert Turd Ferguson is back with another in-depth look at Saturday's UFC 121 pay-per-view.
We get a lot of questions about old T.F.  Is he really the miscreant he makes himself out to be?  How can he know so much about MMA when he's constantly on the run from the law?  Are the rumors true that he's really a 120-pound hipster living in solitude in a friend's shed in Cleveland?  I was given special access to T.F.'s lair this past weekend and let me tell you: the answer to these questions is pretty much, "yes."  Or maybe not.  Possibly.  We just don't know.  But I do know this: he gets it done.  Back by popular demand, your UFC 121 run-down:  
Judgment day for Brock Lesnar was Saturday and Cain Velasquez was judge, jury, and executioner.  His sentence: banishment back to Minnesota to watch the Vikings crap all over the rest of their season.  My judgment day is today, as your humble correspondent has been ordered to appear before a D.C.-area judge to answer to charges of endangerment and corruption of a minor, along with a series of other baseless accusations.    
Fortunately, this is America and unlike Lesnar in the Octagon, I can beat these charges…even if my lawyer slept in his 1993 Saab outside an Arby's parking lot and we just finished off a can of whip-its. 
Let's lay down the law before the judge arrives; or, before I get any more light-headed:
Brendan Schaub v. Gabriel Gonzaga
Schaub was one of three "Ultimate Figher 11″ alumni to appear on the card and won by unanimous decision.  Schaub thus begins his ascent in the heavyweight division resembling a less mangled (i.e., "pussified") Michael Phelps.      
Tito Ortiz v. Matt Hamill
Ortiz came out to heavy boos tonight, likely because it's so close to Halloween.  Then again, come fight time, this guy disappears faster than me on the holidays.  Ortiz ducked a fight with Chuck Liddell to have vaginal rejuvenationneck surgery last year, and even though he came into the fight in great shape, it fell mostly on "deaf ears" when Matt "What did you just say to me?" Hamill demolished Ortiz, basically putting the final nail in the coffin of a subpar and overrated career (adjusts Brett Favre jersey as judge enters the chamber).  Ortiz hasn't won a fight since 2006. 
Give Hamill credit: he trained with Ortiz earlier in his career and looked like the superior fighter.  Hamill displayed some good "ground and pound" along with crisp wrestling to boot.  Ortiz and his wife Jenna Jameson both make their living on their backs; it's just that she's a lot better at it (pats lotion bottle).  Hamill wins by unanimous decision.    
Diego Sanchez def. Paulo Thiago
This was perhaps the best fight I have seen since Rowdy Roddy Piper grappled Keith David in "They Live."  Some tremendous wrestling here, as Sanchez escaped multiple submission holds and takedowns, including an incredible sequence in the second round that led to a big slam by Sanchez, who also did his best interpretation of the human centipede with Thiago.  Sanchez, winner of the inaugural season of The Ultimate Fighter, looked sharp for the first time in awhile, despite criticism from Dana White and others about his insistence at fighting at 170 lbs., rather then dipping down to 155.  Sanchez by decision.
Mid-card note:Shot of Ryan Bader in the crowd.  The undefeated product of Arizona State recently was likely there to support fellow Sun Devil Cain Velasquez.  Besides its imprint on UFC, ASU is also famous as being an MTV reality show breeding ground for starter wives and plaintiffs in Jerry Jones civil suits. 
Court McGee def. Ryan Jensen
Court "Boxcar" McGee's story is impressive and he looked good in this one.  Well, at least as a fighter, because otherwise he's an ugly dude.  Looks aside, he won with an arm bar over Jensen, who could perhaps benefit from a cold compress and an exfoliating rub.  What!?  You think that I just hole up and watch MMA ALL THE TIME!? (shoves Sephora bags underneath couch, applies lipstick, lays on the couch) 
Jake Shields def. Martin Kampmann
For being billed as a co-main event with Lesnar/Velasquez, this match stunk worse then my alibi for my whereabouts last weekend.  Shields was considered a major coup for UFC after defecting from Strikeforce but he looked pedestrian through this three round dance recital with Kampmann.  Shields claimed he had to cut 20 lbs. in one day in order to make weight for the fight at 170.  Usually, when somebody drops that much weight I get a letter in the mail a few months later asking me to submit to a paternity test.  Still, not an ideal debut for a highly-touted free agent pickup.  Fans at the Honda Center who didn't take a bathroom break during this one were unimpressed as well, showering boos on the match.  Add the refs to the bathroom breakers though, as they gave this one to Shields by split decision.  What fight were they watching? 
Main Event: Brock Lesnar v. Cain Velasquez
Lesnar came into the fight to Metallica's "Enter Sandman."  How appropriate.  Velasquez came out with a Mexican flag, even though he is from California.  All of this left me wondering: did California revert back to our neighbors to the south?  Just another reason why I love MMA: like boxing, they will not let any stereotype go unnoticed.  Lesnar was amped up enough to shove a police officer on his way to the Octagon, which elicited additional boos from the Honda Center.  Too bad Lesnar didn't fight the cop instead.  Velasquez survived an immediate bullrush and two takedowns from Lesnar early, stood and exchanged, then bullied Lesnar the entire fight.  The playbook on Lesnar's been out since his fight with Shane Carwin last July: hammer him with fists and challenge his takedowns.  Velasquez took this fight and the belt in impressive fashion. 
Lesnar could be going the way of Mike Tyson after he lost to Buster Douglas in Japan.  Perhaps a cameo in "Hangover 2" is in order?  I heard there's a spot opening up.  Perhaps he can go back to the WWE and resolve the post-fight feud he started with the Undertaker.  What's the feud about?  THAT'S PERSONAL!!!!! 
Despite the harsh sentence from the honorable Judge Velasquez, Lesnar can also still receive conjugal visits from this gal.   Adversity is a part of life, and if Lesnar is meant to be one of the greats he will face this challenge head on.    
Speaking of sentences, it looks like we are moving to trial.  My lawyer's just been held in contempt, and I am trying to climb out of the bathroom window without breaking my ice pipe.  Therefore, I may be out of action for an extended period of time.  As a thank you for posting this, I may be subpoenaing Duke Jackson to serve as a character witness. 
So ordered (bangs the gavel).
Tagged with: ASU • Brock Lesnar • Cain Velasquez • Jenna Jameson • Rowdy Roddy Piper • They Live • Tito Ortiz • Turd Ferguson • UFC • Undertaker • WWE
Filed under: Uncategorized
Like this post? Subscribe to my RSS feed and get loads more!