Wheelchair Double Back Flip
Wednesday, September 8th, 2010 at 8:00 am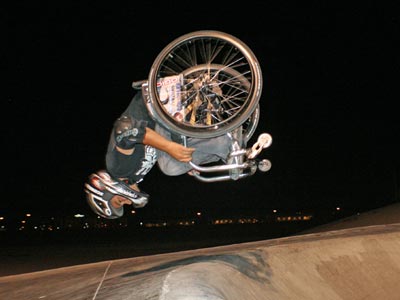 Your chance to catch a glimpse at the future of the X Games after enough spinal injuries happen. ITS EXTREME WHEELCHAIR!  Actually, if its the X Games, they'd probably name it like X-WHEELIE STREET VERT or something impossibly stupid like that. Nevertheless, flipping that heavy ass chair around twice is pretty impressive. Also impressive, this has never been done before. Watch Aaron Fotheringham flip it.
Tagged with: Extreme Sports • Extreme Wheelchair • New Sport • Video
Filed under: Extreme Sports • Video
Like this post? Subscribe to my RSS feed and get loads more!