This Isn't A Little Suspicious?
Monday, February 22nd, 2010 at 2:15 am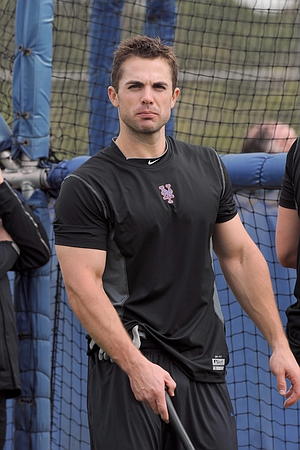 See that picture? That's the NY Mets David Wright looking particularly jacked up coming into baseball camp. Interesting huh? The NY Post's Kevin Kernan did an article on this and yet the idea that Wright had some assistance in bulking up in the offseason was never broached even though the title of the article is "After HR's Fall Off, Mets' Wright Adds Muscle". No red flags there? At all? Check out what was said (emphasis added).
Jeff Francouer said yesterday, "really tells you about a person. David has really worked hard. He looks in great shape.
"I noticed that when he took his shirt off the other day he looked more cut, he looked leaner.
Wright worked out with more passion and changed his diet, sticking to healthy foods and stopped eating at all hours of the day.
I mean, is it not that long ago that those were euphemism's for having used PEDs of some sort? Is it not that long ago where we realized that when people go through radical physical changes as they are approaching the age of 30 that something might be wrong there? I thought the new trend was coming into camp looking less jacked, not more? I am glad he stuck the "eating healthy" in there b/c kids, you should always eat your spinach and say no to drugs.
Now, I am by no means accusing David Wright of taking steroids, what I am saying is that a good reporter might have asked him if he had any assistance in getting that "new" body, if even just to get the denial of it. Probably didn't want to screw any chance of getting an interview with him throughout the season though, understandable to a point, but c'mon…
From NY Post
Filed under: Uncategorized
Like this post? Subscribe to my RSS feed and get loads more!